Andre' Terrett, M.Ed, Behavior Consultant

Andre' joined Connections, Inc. in 2017 as our Director of Community Services. Native to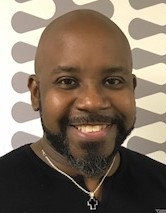 Gary, Indiana, Andre' is a 1993 graduate of West Side High School. In the fall of 1993, he enrolled at Tougaloo College in Jackson, MS where he majored in Psychology with an emphasis in business. After graduating in 1997, he married Vicksburg, MS native Toni Walker. Together they have five children.
Andre' completed his graduate studies at Alcorn State University and Capella University with a Master's degree in Secondary Education and Guidance Counseling, and a Master's degree and doctoral studies in K-12 Education. Andre' is an ordained minister and assistant pastor at Mt. Alban Baptist Church of Vicksburg. He assists where needed in the church and oversees the family engagement efforts as assistant pastor.
Andre' has presented research on a number of social service topics including his thesis on the "Effects of Labeling Children either Gifted or Special Ed". His background in counseling, program development, and management has opened doors to minister throughout the country. Andre' has been a mentor for years in the Vicksburg community to young men and women both directly and indirectly. He was most recently a Positive Behavior Interventions and Strategies Technical Assistance Specialist at the University of Southern Mississippi before relocating to Indiana. Andre' also serves on the board of directors of several non profit and faith based organizations in Indiana and Mississippi.
Andre's motto is: "If a child doesn't learn the way I teach, then I must teach the way that child learns!"